The Modern Influencer
The most up-to-date Instagram course! Teaching aspiring Influencers, step-by-step, how to embrace their unique-ness, grow on Instagram and work with dream brands.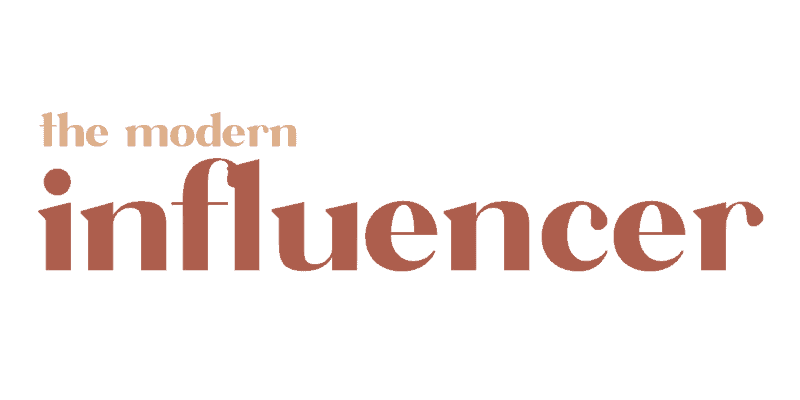 HAVE YOU ALWAYS WANTED TO BECOME A FULL-TIME INFLUENCER?
Quitting the soul-sucking day job… Living life on your own terms… Creating your own schedule… The freedom that comes along with this kind of profession…
I know that feeling too!
But maybe something's been holding you back from really taking your dream seriously?
MAYBE YOU'VE STARTED TO PUT YOURSELF FORWARD ON SOCIAL MEDIA AND YOUR 'FRIENDS' STARTED LAUGHING AT YOU BEHIND YOUR BACK?
MAYBE YOU STARTED GAINING SOME MOMENTUM BUT THEN LIFE GOT IN THE WAY AND YOU LOST FOCUS AND NOW YOU DON'T KNOW HOW TO BEGIN AGAIN?
MAYBE YOU'RE SCARED TO EVEN JUST GET STARTED? I MEAN, ISN'T THE MARKET OVERSATURATED NOW…HOW ARE YOU SUPPOSED TO STAND OUT FROM THE PACK?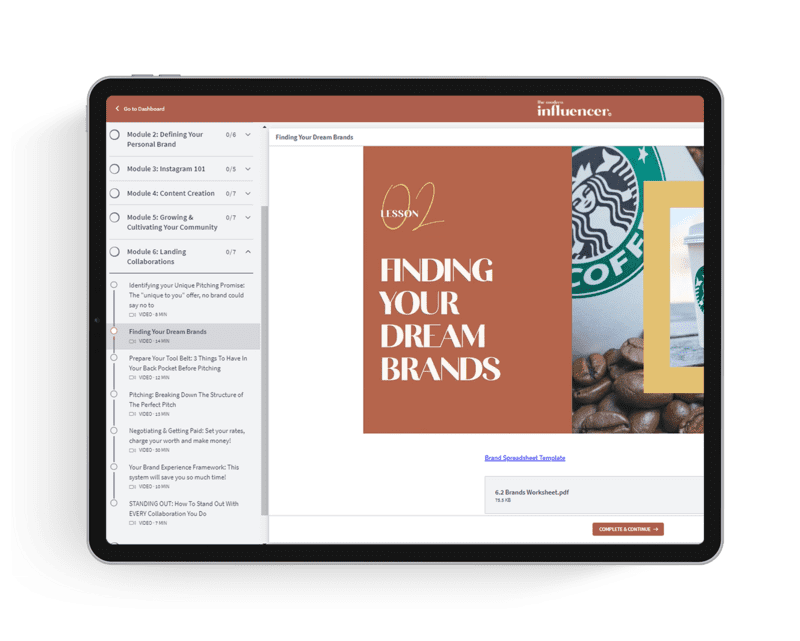 Listen, I get it.
YOUR FEARS ARE REAL. BUT SO IS REGRET.
Hold on just a sec before you decide being an influencer isn't for you…Listen, I get it.
HERE'S A TRUTH BOMB FOR YOU…
You have what it takes to be a success. It's time to be bold and take a chance on your dream. Even if you think the market is oversaturated. Even if you think Instagram is too hard to grow on in 2021. Even if you're starting today with like, 200 followers. You have a unique voice and your dream audience needs to hear it. You have this dream for a reason. It's not going to disappear. So honor it. Start now. You're ready. Let me help guide the way.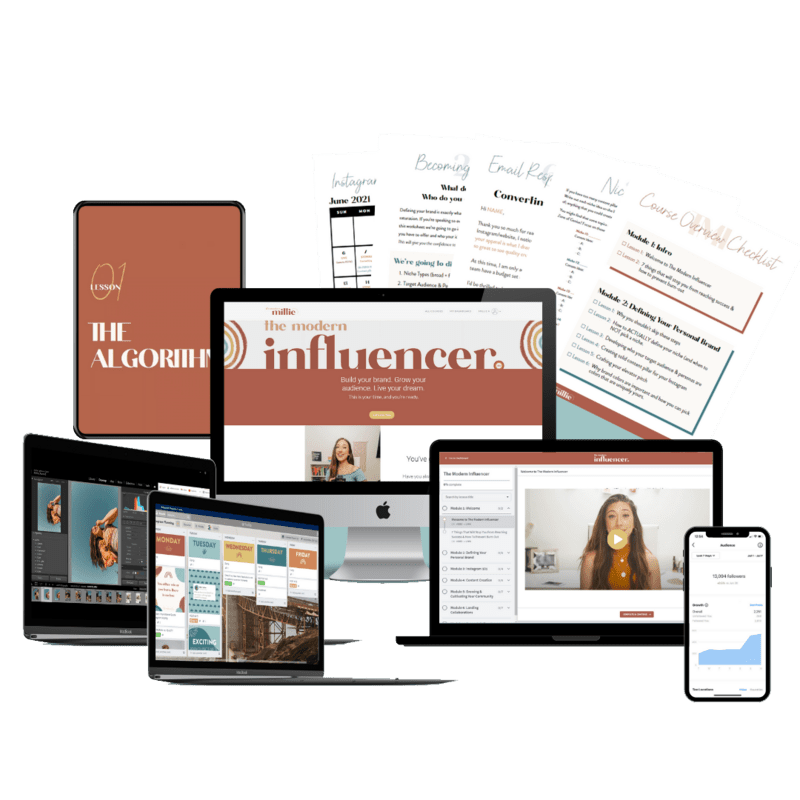 Here's what you'll learn inside The Modern Influencer
Module 1: Welcome
⟶ Welcome to The Modern Influencer
⟶ 7 Things That Will Stop You From Reaching Success & How To Prevent Burn-Out
Module 2: Defining Your Personal Brand
⟶ Why You Shouldn't Skip These Steps
⟶ How To ACTUALLY Define Your Niche (and when to NOT pick a niche)
⟶ Developing Who Your Target Audience & Personas Are
⟶ Creating Solid Content Pillars For Your Instagram
⟶ Crafting Your Elevator Pitch
⟶ Why Brand Colors Are Important and How You Can Pick Colors That Are Uniquely Yours
Module 3: Instagram 101
⟶ The Instagram Algorithm: Understanding how it works so you can use it to your advantage
⟶ Breaking Down Each Instagram Feature: The purpose of each feature and how you can use them to communicate your brand
⟶ Account Settings: Creator or Business Account? Private or Public?
⟶ The Magic of The H.U.B.B: Setting your Instagram up for success
Module 4: Content Creation
⟶ Inspiration: How to get inspired when you have no idea where to start creating content
⟶ Photography Tips: How to take photos that POP even if you're shooting alone
⟶Confidence & Posing: Feel confident in-front of the camera & practical posing tips
⟶Creating A Cohesive Feed Through Editing (finding your unique style)
⟶ Design101: How to create "thumb-stopping" graphics for Instagram in each dimension!
⟶Content Research: Never run out of posting ideas again!
⟶ How To Make A Content Calendar & Post Consistently
Module 5: Growing & Cultivating Your Community
⟶ The 2 Main Instagram Strategies You Need To Know
⟶ What NOT To Do On Instagram
⟶ Taking Growth Action: How To GROW On Instagram
⟶ Taking Nurture Action: How To Increase Engagement On Instagram
⟶ Writing Captions: 6 Strategies that receive high engagement & ONE formula to write a caption that sells!
⟶ The Ultimate Hashtag Strategy
⟶ Learn To Understand Your Analytics So You Can Always Be Improving Your Content
Module 6: Landing Collaborations
⟶ Identifying your Unique Pitching Promise: The "unique to you" offer, no brand could say no to
⟶ Finding Your Dream Brands
⟶ Prepare Your Tool Belt: 3 Things To Have In Your Back Pocket Before Pitching
⟶ Pitching: Breaking Down The Structure of The Perfect Pitch
⟶ Negotiating & Getting Paid: Set your rates, charge your worth and make money!
⟶ Your Brand Experience Framework: This system will save you so much time!
⟶  STANDING OUT: How To Stand Out With EVERY Collaboration You Do
Module 7: Wrapping Up + Bonuses
⟶ The Legal Side of Being An Influencer
⟶ Reels Tips & Tricks From a Reels Course Creator | Monique from @thesocialista_
⟶ Growing 30,000 Followers In ONE Month | How Student, Brianna Rae, Was Able To Grow FAST
⟶ An Interview With My Brand Collaborations Manager | Is it time to get an agent/manager?
Sales Page in PDF (opens in a new tab)