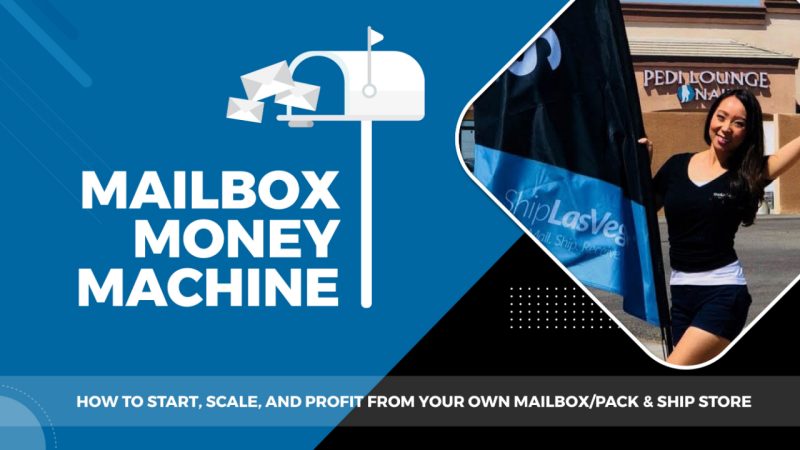 What You Get:
Open a Mailbox Rental / Pack & Ship Store
There are a ton of things that could be preventing you from having the life you want, starting the business you want, and most importantly, building the wealth you want. Let me help you become a small business owner in a steady, reliable, local industry that isn't going anywhere, anytime soon.
This business model is very expandable. In addition to mailbox rentals and shipping services… You could choose to offer:
Notary Public services
Faxing and scanning services
Printing and copying services
Shredding and document destruction services
Mail forwarding services
Package receiving and storage services
Packing and shipping supplies sales
Virtual mailbox services
Uhaul
The list goes on…
With a simple shift in your mindset, some hard work and smart money practices, you can own your own small business and start living the life of your dreams.
This course is an experience share of how I started my first store, using the tools and resources that I have found to work for me. Your results are not guaranteed and are completely dependent on your location, level of effort, preparedness and ability to execute. There are no refunds and no guarantees.
Mailbox Money Machine is the First of It's Kind
This isn't trying to sell you a franchise. This is a step-by-step guide for how to build your own independent mailbox rental/pack & ship store. Inside you'll find 23 modules with digestible video lessons and an entire 35 page SOP complete with:
Template mailbox rental agreement
Resources on becoming an authorized shipper and/or access point for various carriers
Customer service SOPs and scripts
Start-up equipment lists and store set-up specs
Operator hire job offer templates
How to set up your POS and tech stack
Store opening and closing procedures, and;
…much much more!
Introduction to the business model
I provide an in-depth overview of the mailbox rental and pack and ship industry, including the different types of services that are offered (such as mail and package receiving, mail forwarding, and shipping services) and the target market for these services (such as small business owners, travelers, and e-commerce merchants). It will also cover the industry trends and market size.
Setting up your business structure
I teach you how to set up your business, including choosing the appropriate business structure (such as sole proprietorship, partnership, LLC or corporation), identifying and evaluating potential location options, and obtaining all necessary licenses and permits. It will also include an overview of the legal and insurance requirement for the mailbox rental and pack and ship industry.
Choosing the right equipment
I cover the essential equipment and supplies you will need to run your mailbox rental and pack and ship store, including shipping scales, packaging materials, and a computer system for tracking orders and managing customer accounts. It will also cover the cost and budgeting for the equipment, and the software needed for the operations of the store.
Store Operations & Procedures
You won't have to 'guess' what to do every day inside your store. I share with you my operational SOPs which include everything from how to apply to be an access point for all carriers, to your store's opening and closing procedures, and even safety guidelines so you have a one-stop-shop reference manual once you get up and running.
Customer Service Guidelines & Scripts 
As a service based business, your customers are your most important aspect. Based on what's worked for my stores, I share with you guidelines for customer service and full scripts that you can hand directly to your staff that they can use for customer interactions. Our customer service SOPs are designed for maximum client retention!
Marketing for Maximum Visibility
You're now a member of a community offering a needed service to your neighbors. I give you insights into how to share your store opening and all services for maximum visibility including both off-line and on-line marketing tactics. I also share with you insider hacks on how to get more customers into your store.