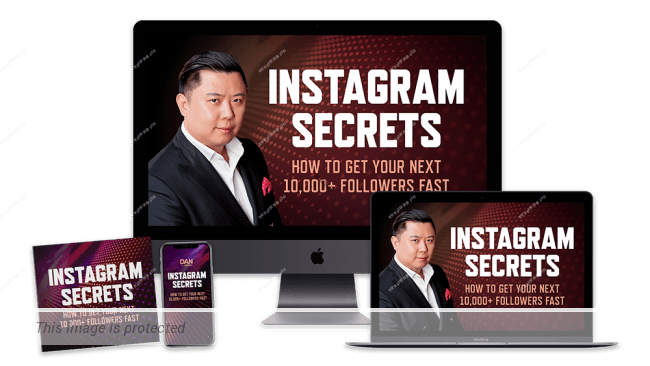 How To Get Your Next 10,000+ Instagram Followers Fast
When You Get The Official Recording Of Instagram Secrets Taught By Dan Lok And Blake, You'll Discover:
​The fastest, easiest way to get your next 10,000+ Instagram followers (Once you start using the 4 pillars of Instagram growth, your follower count will explode practically overnight!)…
How to get started right, your very first time (you get a detailed,

hold-you-by-the-hand action plan

so you bypass the normal learning curve!)…
​The simple shift in your thinking that gives you an unfair advantage over 99.4% of the Instagram accounts who are competing for the same followers you are…
​How to overcome the two DEADLY mistakes most people make with Instagram…
​The "5 Second Butterfly Effect" to 

skyrocket

 the amount of likes and comments you get on any post!
Here's What You'll Get…
OFFICIAL RECORDING OF INSTAGRAM SECRETS
WITH DAN LOK
Dan Lok's exclusive LIVE online event gives you the secrets to get your next 10,000+ Instagram followers fast.
Get The Official Recording Of The LIVE Online Event Now And Get These FREE Bonuses:
INSTAGRAM SECRETS QUICKSTART GUIDE
($97 VALUE)
Dan puts together all the key takeaways and action items from Instagram Secrets and puts it all into a simple, easy to use guide to help you get your next 10,000+ Instagram followers FAST!
INSTAGRAM DECODED: DECODING DAN LOK'S TOP 3 INSTAGRAM POSTS
($347 VALUE)
Get exclusive "Insider Information" on why Dan's top posts do so well, and the secrets you can use to get more likes and comments.
10 POINT INSTAGRAM CHECKLIST
($247 VALUE)
There are 10 things that every single highly profitable and rapidly growing Instagram account has. In this checklist, you get every single piece of advice you need to make sure your Instagram account is set for success.