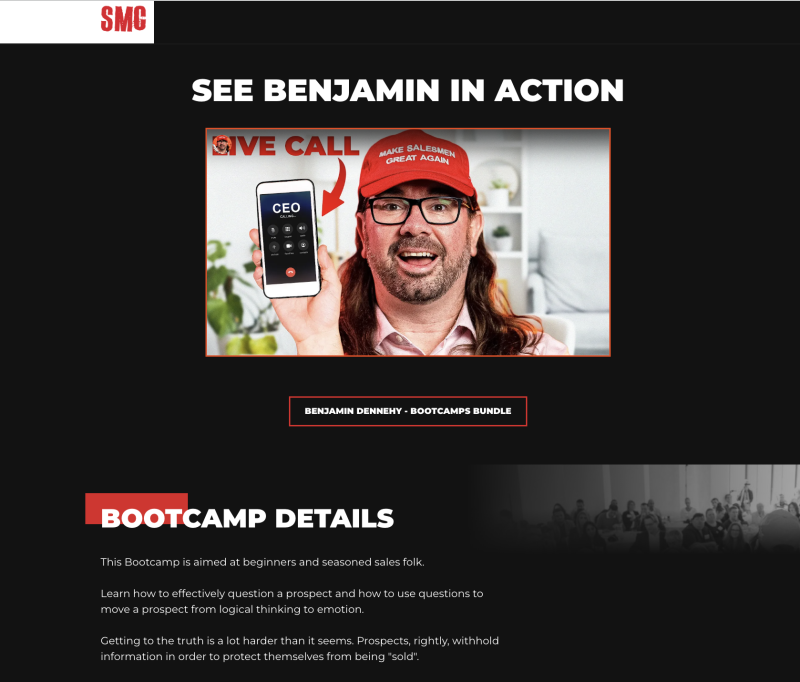 WHAT YOU GET?
1 – Telephone Prospecting Bootcamp

IN THIS RECORDING LEARN HOW TO:
HOW TO GET PAST GATE-KEEPERS
WHY YOU'RE YOUR OWN WORST ENEMY
THE PSYCHOLOGY OF QUESTIONS
HOW TO NOT SOUND LIKE A SALESPERSON
HOW TO GET INVITED IN BY PROSPECTS
BOOTCAMP DETAILS
This bootcamp is aimed at beginners and seasoned callers.
What you will soon discover is that a beginner behaves virtually identically to a seasoned caller.
2 – Questioning Strategies Bootcamp

IN THIS RECORDING LEARN HOW TO:
EFFECTIVELY QUESTION A PROSPECT
MASTER REVERSE PSYCHOLOGY
GET THE TRUTH FROM A PROSPECT
MOVE A PROSPECT FROM LOGIC TO EMOTION
MASTER THE ART OF SOCRATIC QUESTIONING
BOOTCAMP DETAILS
This Bootcamp is aimed at beginners and seasoned sales folk.
Learn how to effectively question a prospect and how to use questions to move a prospect from logical thinking to emotion.
Getting to the truth is a lot harder than it seems. Prospects, rightly, withhold information in order to protect themselves from being "sold".
3 – How to Run a Sales Meeting Pt 1 and Pt 2

IN THIS RECORDING YOU WILL LEARN
THE SALES MATRIX
WHY YOU NEED A STRUCTURE TO FOLLOW
HOW TO CLOSE BEFORE YOU START
HOW TO SELL PROPOSALS AND QUOTES
REVERSE PSYCHOLOGY AND QUESTIONS
BOOTCAMP DETAILS
On this 9 hour bootcamp you will learn 3  steps to consistently get the right outcome in any sales meeting.
There are always 3 outcomes to any sales meeting, all of which are legitimate;
1) A yes to moving forward
2) A disqualified prospect
3) A sale

How to master reverse psychology
Managing the reaction of a prospect
Why how you ask is more important than why
How to get the truth from a prospect who's always holding back
How to not sound like a salesperson
How to challenge the prospect's future
Question the alternatives
How to get the prospect fighting in their head with an existing supplier or competitor
Master the art of Socratic Questioning
How to ask questions that create emotion
How to separate a sales meeting from an order with questions
How to move a person from intellectual interest to emotional connection
The psychological question game play
How to fight for the prospect's status quo
How to fight for the prospect's status quo