We've built The Influencer Marketing Masterclass to equip your eCom brand with quality influencer content that accelerates trust, credibility, and sales using The D.A.B. Method
What You Get:
The D.A.B. Method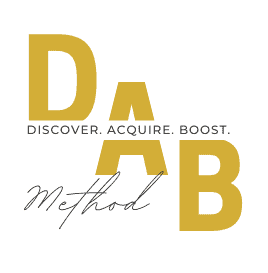 The 3-part, step-by-step action plan for launching high-ROI influencer campaigns that accelerate trust, credibility, and sales for pennies on the dollar.
DISCOVER influencers who align with your brand — from nano, micro, and celebrity categories — while easily authenticating and organizing their details to dial-in the perfect match
ACQUIRE profitable, collaborative deals by starting conversations with your selected influencers and systemizing outreach and agreements for high-quality content that engages your target audience
BOOST user-generated content through organic and paid strategies that rapidly amplify your brand's messaging and increase sales by harnessing the 3 psychological advantages of influencer marketing
Bonuses:
Bonus #1
The DAB Method EXTRAS
The Perfect Influencer Checklist
DM/Email Script Flow
UGC Swipe File Of High-Performing Creatives
Influencer Outreach Mastersheet
Influencer Onboarding Form
Bonus #2
The Paid Traffic "Whitelist" Strategy That Supercharges Your Winning UGC Creatives
After seeing which of your user-generated content performs best with The DAB Method, this little-known paid traffic strategy scales it to the next level.
It adds a fresh dynamic to the type of messaging you can use, because your ads are run from the influencer's page.
As a result of this perceived "first-hand experience" with your product, your campaigns can better resonate with the audience, increasing conversions.
Bonus #3
Josh Snow's Fireside Chats: How To Master Influencer Marketing
If you were given an afternoon with Josh at his Scottsdale home and forced him to spill the beans on all his strategies, tactics, and tips when it comes to influencer marketing — these fireside chats would be the end result.
Josh holds nothing back. Grab a paper, pen, some coffee, and get ready to be blown away by all the possibilities that influencers can unlock for your brand.
This includes a step-by-step breakdown of how to maneuver through gatekeepers, so you can land massive deals with A-list celebrities like Drake when your brand is ready for more.
Introductions to Influencers
What Really Works With Influencer Marketing
Strategy Behind Micro Influencers
Strategy Behind Celebrity Influencers
Bonus #4
Josh Snow & Los Silva at PowerHouse Live: Influencer Marketing Keynote Speech
The two founders of PowerHouse give their keynote speech about influencer marketing to a closed-door room of brand owners.
Listen to their latest actionable advice for the audience's questions, current struggles, and real-world scenarios.