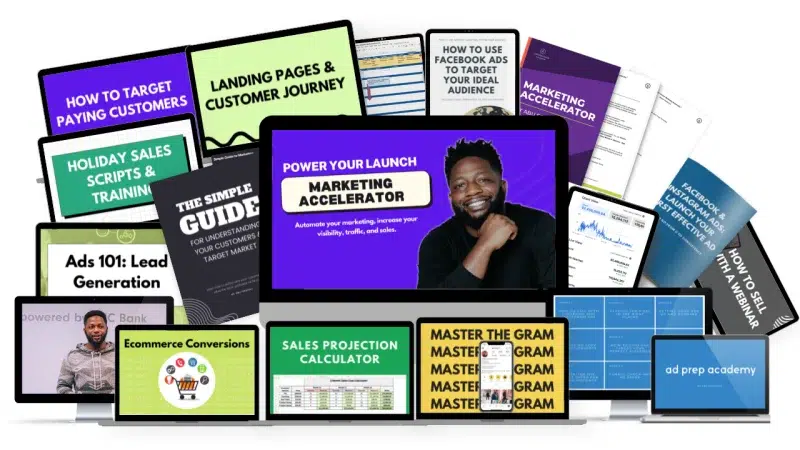 What You Get:
🧠 The Core PYL Marketing Accelerator Live Curriculum – 80+ hours of pre-recorded sessions with Abu, covering (1) Launch Successful Facebook & Instagram Ads, (2) Find Your Audience Online (3) Drive Traffic and Convert it to Sales (4) Establish Clarity around your Offer (5) Write Compelling Copy, (6) Build Funnels from Scratch (7) Create and Automate your Marketing System.
📚 PYL Marketing Accelerator Bonus Modules – Get Extra deep-dive video training on advanced tactics, such as e-commerce conversion mastery, growing your instagram, turning likes into subscribers, scaling with webinars, ads 101 foundation, lead generation strategies, and more.
🚀 Our Full Marketing Accelerator Program for 12 months, which includes checklists, frameworks, templates and a master workbook to turn you into a Facebook ads & marketing beast…

Create Facebook ads consistently and effortlessly through our 5 Stages of the Effective Ads Framework, attract the right customers who are ready to buy.
Write effective copy for your marketing campaigns that truly resonates with your audience using our Copywriting Conversion Code Framework and templates.
Build your own Sales and Lead Funnel System that'll allow you to begin putting parts of your marketing on autopilot.
Identify customers who are ready to buy using Customer Placement Map Process, a framework to helping you identify and craft better content for you audience, so that you can deliver the right message at the right time, to the right audience.
Prepared Marketing Learning Assessments, that'll provide you with actionable feedback, and guidance, so that you can evaluate and measure your impact and progress.
Set up the Perfect Marketing Campaigns, learn how to launch effective ads using our Rough Draft Ads Template so that you can limit your mistakes and put together effective marketing campaigns.
Redesign and Increase your sales with our Retargeting Framework, that'll teach you how to re-engage with users who have already interacted with your brand so that you can maximize your budget and increase your profitability.
Identify winning ads and effortlessly scale through our Introduction to Scaling Strategies framework, so you don't have to guess.

 🛠 Troubleshooting Process – you'll learn how to troubleshoot your Facebook ads so that you can save time and focus on the implementation of the next marketing campaign.
👥 Monthly Q&A calls – 12 months of access to our Expert Facebook Ads Coach, who'll provide training and detailed feedback on putting together facebook ad campaigns.
The 7-Day Ad Challenge Checklist & Launch Process – Submit your ads the right way through our framework, that'll get you ready to running successful marketing campaigns that convert. We'll show you more tricks to launching your better ads.
The 5 Stages of the Effective Ads Framework – Get the entire 5-Stage Framework breakdown on how to become a better marketer to attract the right customers by building a system that'll help you build the foundation and automate most of your marketing.
88+ Page Marketing Accelerator Workbook – Ensure your completion of the program and take rigorous notes by getting access to over 88 pages of workbook prompts, exercises, and strategies, as you complete the program.
Module 1: The Fundamentals of Facebook Ads and Building Effective Marketing
We're going to break down how we're going to think about building marketing campaigns that resonate with our audience.
Module 2: Targeting – Find Your Audience, Develop Your Message, Craft Your Offer
Learn everything about targeting your audience online, including how to write copy that resonates and how to position your offer to drive an urgency to purchase..
Module 3: Building Our Ads From Scratch
Let's understand how to navigate the ads manager, setting up our audiences, creating our asset library, understand how to navigate ad violations, etc.
Module 4: Funnels & Customer Journey
How do you lead your customers on a journey to purchase from you? We'll cover what you need to do to build funnels and increase your conversions on the path to purchase.
Module 5: How to Drive Consistent Conversions
Have you ever wondered how to increase your order cart value, or sales per customer? We're going to focus on reading the data and what needs to be done in order to drive sales.
Module 6: Launching Your Ads
This is the moment we'll put it all together from scratch. We'll show you what to select, what to set, and how audiences to target first, etc.
Module 7: Post Launch; Analyzing Results, Reading Data, & Scaling
After you publish your first few ads, now what? We're going to show you exactly what you need to do in order to have continued success.
Module 8: Graduation + Certificate + Last Training
Okay, before you go, there's a few more things. Actually, there's a lot more things. Let's talk about it.
Bonuses:
Bonus 1: Ad Prep Academy 
Learn over 20 new ideas and strategies to generate consistent leads consistently in your business. Includes case studies.
Bonus 2: Websites that convert (E-com & Service websites)
Building Websites that Convert – Get the blueprint on how to build your website with the top most critical pages. It's what the highest converting websites all have in common.
Bonus 3: How to Sell via Webinar
Get an outline of my exact email scripts, outline, and what you need to do in order to be successful selling your services/courses/digital products using a webinar.
Bonus 4: How to Sell During the Holiday
Sell out during the Holidays – Allows you to easily set up your promotional campaigns so you can double or triple your sales during holidays.
Bonus 5: Master the Gram: How to Organically grow your Instagram 
Set up and position your business to attract quality leads using Instagram organic strategies and turn your likes into subscribers.
Bonus 6: My Thousand Dollar Ad Strategies
Learn how I put together some of my most successful marketing campaigns.
Bonus 7: Foundation + Lead Generation
Learn the ads basics of campaign, lead generation, sales generation and types of lead magnets.