Get 104 Weeks (That's 2 Years!) Of Email Content All Planned Out For You… And Keep Your Subscribers Pipin' Hot & Waiting To Buy From You!
Keep your subscribers happy, nurtured, and profitable with The Happy Subscribers Toolkit.
We are expected to consistently churn out email after email if we want to build a strong relationship with our subscribers… but we can't always be "switched on".
Whether you send newsletter emails once a week, twice a week, or even every single day… it gets overwhelming at times.
Sometimes we just don't know what to send our subscribers.
Maybe it's a tiring week and we just don't feel like sending an email out… (although we know we have to. Of course.)
Sometimes we don't feel particularly creative or inspired.
Sometimes we are so busy with all the other things in our business and personal lives, our email list gets neglected.
We're humans, after all!


Introducing The Happy Subscribers Toolkit:
Your Personal Toolkit of Ideas & Templates To Keep Your Email List Happy, Engaged, And Wildly Profitable…
With an email content plan spanning 2 years…
104 unique and proven email content ideas to send your list, enough newsletter ideas to last you for 2 years of broadcasts…
… AND 124 high-performing plug-and-play email templates that you can swipe to nurture and engage your subscribers…
I am a fellow online entrepreneur myself, and I know how busy things can be.
I've felt the pressure to send email after email. Sometimes I felt inspired, sometimes I was too lazy or busy. I have even skipped newsletters in the past and felt really guilty.
Writing emails took up copious amounts of my time! On my "off" days, I would stare at my computer screen and zone out, desperately trying to come up with good email content ideas when I was just not feeling creative that day.
After sending out thousands of emails to my list over the last 3 years and observing which emails worked and which didn't…
Reading tens of thousands of emails from marketers (across multiple verticals) and expert copywriters on a daily basis…
I steadily accumulated a ton of high-performing email content ideas, crafted multiple go-to templates for my business, and can now write emails with so much more ease.
But really, I am most glad that I can help other entrepreneurs find "the rhythm" that keeps their subscribers happy, nurtured, and piping hot… without driving themselves insane.
You don't have to start every email from scratch. Not anymore!
This Means You Can…


The Happy Subscribers Toolkit Is Loved By Online Entrepreneurs From All Walks of Life, Across Multiple Niches…
Here's What You Get Inside The Happy Subscribers Toolkit!
Suggested 24-Month Weekly Newsletter Content Plan for 2020 & 2021!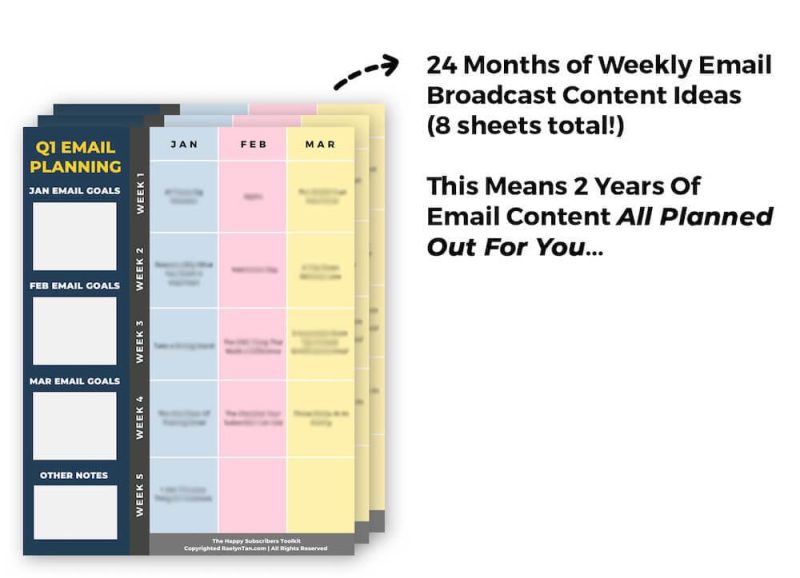 You get 24 months of email broadcast content ideas all planned out for you… this means 104 unique email content ideas! Once a Week Newsletter Content To Last You For 2 Years.
You get 24 months of email broadcast content ideas all planned out for you! This means you now have an email content plan for 2020 AND 2021. Easily plan and schedule your email content without having to start from scratch.
This is an email content plan with 104 unique once a week broadcast emails spanning 2 years that you can send to your subscribers to keep them engaged and well-nurtured.
This is a 100% customizable plan. You can easily edit the plan, shift the emails around, or change the frequency of how often you want to send broadcasts… as you prefer!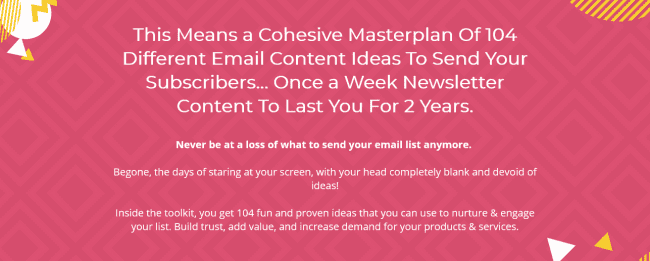 Your Personal Arsenal Of 104 Proven Plug-And-Play Newsletter Broadcast Email Templates!
Each of the 104 emails in your 24-month email content plan comes with an accompanying email template you can use.
This means you get once a week newsletter email templates for 2 entire years to build trust and keep your subscribers happy, engaged, and nurtured… all done for you.
Just copy and paste a template you like, customize it to fit your business, and you're ready to send your email out!
You get my library of 100% customizable email templates designed to build trust and make you sales. You no longer have to write every email from scratch!
The Newsletter Broadcast Email Templates You Get Inside The Toolkit Include Emails Like…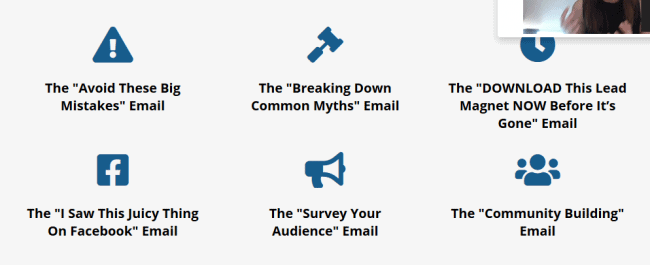 … and many more email ideas + templates that will help you to build trust, engage your subscribers, and prime them for the sale.
Keep your subscribers piping hot and waiting to buy from you!
That's Not All… You Also Get…
+ 5 Additional Welcome Sequence Email Templates
New subscribers should be treated differently from your main list because they are still unfamiliar with your business.
The first few emails you send are crucial and will determine if a new subscriber will open your future emails.
Build trust and establish credibility with your new subscribers with our welcome sequence email templates specifically designed to turn strangers into eager subscribers who remember you and look forward to your emails.
+ 15 Additional Essential Proven Sales Email Templates: Plan Your Year Of Making Money!
When you are ready, make money from your email list using these sales email "ka-ching" templates!
These essential sales email templates are based on psychological triggers and can be used again and again to bring you sales throughout the year.
You get cart open emails, cart closing reminder emails… and even a 4-part flash sale sequence!
These are must-have sales templates that every entrepreneur has to have in order to maximize the revenue made from their email list.
The Essential Sales Email Templates You Get Inside The Toolkit Include Emails Like…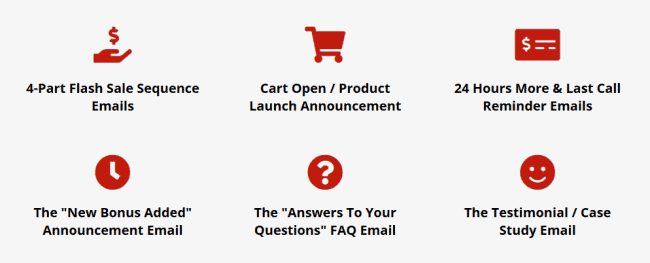 … and other essential sales email templates that you will need in your online entrepreneurial journey which I will not disclose here.
100% Customizable Fill-In-The-Blank Templates… You Have Full Control!
In each Happy Subscriber Toolkit Template, you get a fill-in-the-blank template that you can easily edit to suit your specific business and writing style.
These blanks prompt you to come out of your shell… to share parts of you and your business that you wouldn't have thought of sharing with your list.
One template, thousands of possible permutations.
I believe in giving you the best starting point possible so that you can not just save as much time as possible, but also to bring out the best of you (and your business) to create the highest quality emails possible.
The newsletter content ideas and templates inside The Happy Subscribers Toolkit can be used across multiple niches. We specify where in each template you should customize to suit your specific niche and business.
But don't just listen to us!
The Happy Subscriber Toolkit is loved by ordinary entrepreneurs from all walks of life who own online businesses in just about every niche under the sun…
That's Not All! You Get These 4 Additional Bonuses Too When You Purchase The Happy Subscribers Toolkit Today.

Who Is Behind The Happy Subscribers Toolkit?
Hey, I'm Raelyn Tan! The Happy Subscribers Toolkit took me over 3 months to put together…
Traffic and list building strategist at raelyntan.com
?Blogging for 10 years (3+ years on this current biz)
?First-class honors marketing degree
?Social media following of over 60k+ entrepreneurs
?I work full-time from home online since 2017
?0 to 1K subscribers in 4 months, over 20K subscribers now
?Over 200 students in my signature traffic and list building course, Traffic Subscribers Yours
Some fun facts: I am a Christian and the eldest daughter of 3 children. I love traveling – I especially love scenic road trips, or traveling to Japan to eat sushi there! I drink one coffee a day to keep the blues away. You would probably find me reading a good book at a nearby cafe!
Once Again, Here's a Summary of Everything You Get Inside The Happy Subscribers Toolkit:
Suggested 24-Month Email Content Plan: Calendar of newsletter broadcast ideas for 2020 AND 2021!
Editable Printable Planning Sheets in 2 Different Colors: Use these thoughtfully created planning sheets to plan your email content for years to come!
104 Different + Proven Newsletter Ideas To Send Your Email List:? Never be at a loss of what to send your email list anymore. Plus, the accompanying plug-and-play 100% editable email templates consisting of:
104 Plug-and-Play Broadcast Email Templates: Once a week newsletter emails for 2 entire years to build trust and keep your subscribers happy, engaged, and nurtured, all done for you!
5 Welcome Email Sequence Templates: Build trust and establish credibility with your new subscribers using these indoctrination templates specifically designed to turn strangers into eager subscribers ready to open your emails.
15 Essential Sales Email Templates: Make money from your email list without being sleazy with these 30 proven sales email "ka-ching" templates! These are must-have sales templates that every entrepreneur should use to maximize the revenue made from their list.
Bonus #1: 250 High-Converting Email Subject Lines PDF
Bonus #2: 50 High Emotion Power Words Ultimate List PDF
Bonus #3: Tiny List To-dos Cheat Sheet
Bonus #4: 9 Hacks to Build Personal & Strong Relationships With Your Subscribers Cheat Sheet