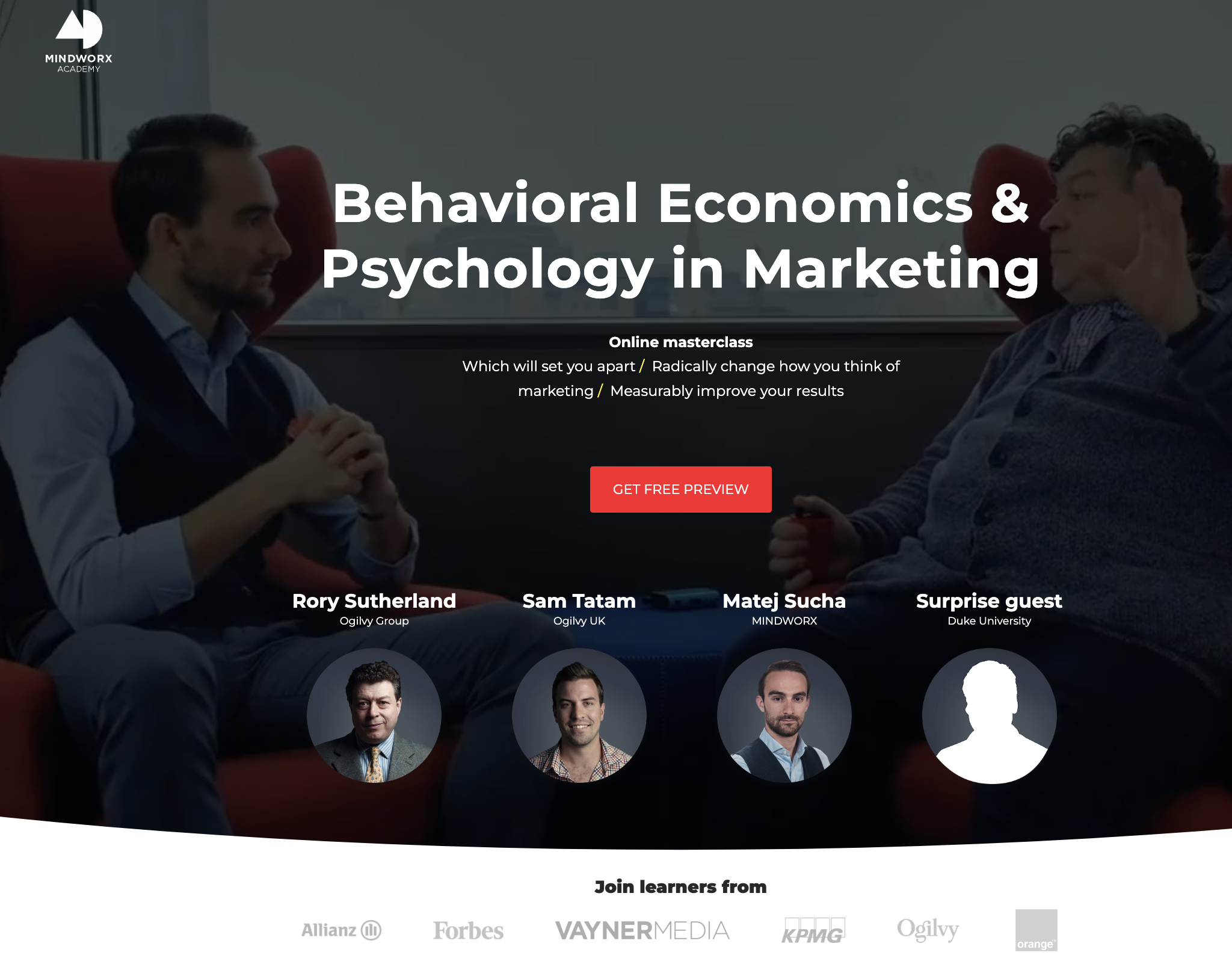 What You Get:
This Masterclass reveals exactly how to use insights from 4 decades of research in consumer psychology and behavioral economics to increase conversions.
You'll get a step-by-step framework on how to apply 24 most powerful psychological principles into your ads, landing pages, emails, sales funnels and everything in between.
01- What is BE and why does it matter for marketers?
More and more, marketing and communication are becoming a science. A science about what makes customers tick, how they behave and make decisions. Here, Rory will explain why marketers must learn about behavioral economics and why standard approaches to marketing and advertising are slowly dying.
Full of surprising examples, astonishing case studies and eye-opening insights, all wrapped in Rory's unmistakable sense of humor.
02- A – Analyse the decision-making context
Matej will talk about the most common mistakes marketers make when they approach a project. He will give you the necessary tools to discover why customers aren't doing what you want them to do.
Step-by-step he'll take you through the process of analyzing the decision-making context. This crucial part must be made before you start coming up with ideas. Otherwise all the efforts and solutions you come up with might be in vain. Which would be rather unfortunate. Especially since there is a better way.
03- D – Drivers of behavior
You'll learn powerful, scientifically proven behavioral tools which will enable you to change the behavior and decisions of your customer.
Matej will talk about surprising psychological principles which all clients were astonished to learn. He'll share how unimportant it might be to talk about the benefits of your product or how simply changing the order of information you give can work wonders.
He'll also unveil how they used these principles to boost conversion by 132%, increase the effectiveness of a campaign by 55% or how they improved CTRs by 57%. Not half bad, actually!
The main principles you'll master are Uncertainty, Perceived Effort, Reciprocity, Social Proof and Loss Aversion.
04- A – Choice architecture
Sam will explore one of the most powerful ways to shape the behavior of your customer — changing choice architecture. The way the decision-making process is built, choices are presented and when you attract people's attention is crucial.
Sam will talk about a tiny change on a website which brought 300 million in revenues. He'll explain why more choice for customers can be literally deadly for your business and what to do about it. You'll also find out how increasing friction for your customers can be a surprising goldmine.
We'll cover the following concepts: Choice Overload, Defaults, Friction and Salience.
05- P – Perception of price and product
We will explain that people don't know how much they are willing to pay for products or services and what power that gives you. You'll see that customers cannot evaluate prices and offers in a vacuum, that's why the context is crucial.
You'll get powerful tools which can be used to change the decision-making context and thus the perception of prices, products and fairness of your offers.
You'll be astonished to find out that customers might be happier if they wait longer, that a random number can make them pay more or that an irrelevant offer which no one chooses can be a game-changer.
The concepts you'll learn are Fairness, Middle Option, Anchoring, Power of Free and Decoy.
06- T – Test and iterate
The last letter of the ADAPT framework talks about the last essential step on your way to designing solutions which really work.
It's tough to predict which of your ideas will work best. Behavioral economics gives you the tools to create amazing solutions, but only testing them will clearly show which one is the winner.
Matej will explain how you should test, who to test on and what to do with the results.
07- Case studies
At this point you'll have learned all the powerful behavioral principles and will have mastered the ADAPT framework. So the best way to end this course is to show you how we — your 4 lecturers — have used all of it to solve specific challenges.
In this part you'll hear 11 case studies where Rory, Sam and Matej used behavioral insights in product design, direct mail campaigns, website optimization, behavior change and more.
There's nothing quite like seeing all that knowledge applied and working in a real-life context. This part provides both loads of inspiration as well as a great context to help you absorb the lessons and use them correctly in your own practice.