To the Facebook marketer whose ads barely run before getting killed…
The $20,000 Ad Blueprint Behind Facebook's Longest Running And Most Profitable Ads Can Help You "Ban Proof" Your Ads!
This little-known 7-template system helps you write ads faster…launch with confidence…and get steady conversions needed to scale your business.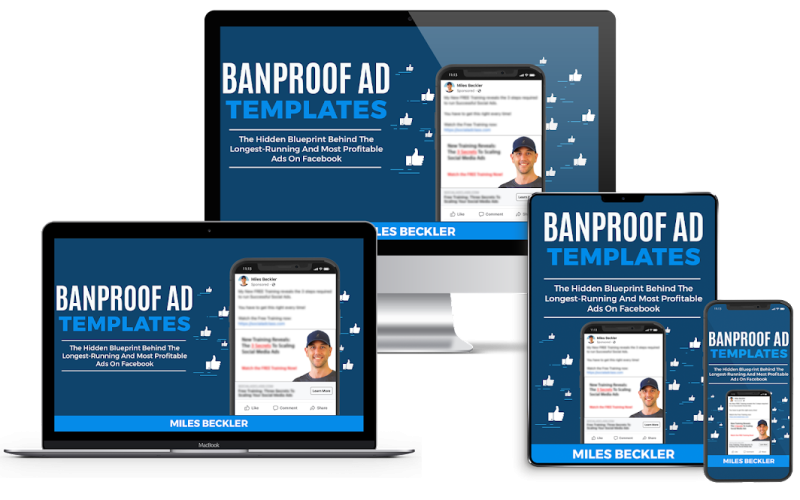 This is my 7-template system for writing profitable ads in minutes…in any niche…without worrying about your ads getting banned.
It's borne from a year-long research to discover the blueprint of Facebook's longest-running (and most profitable) ads – in the past two years.
With this in your hands…
You don't have to worry about what to write…
You don't have to sit and wait for magical moments of inspiration…
…or go through the hectic process of vetting and hiring a copywriter.
When you're done writing your ads, you'll be so confident it'll bring you great results.
All you have to do?
Once you've figured out your market, how you can help them, and the type of ad you want to write…
Just flick through the 82 page blueprint…pick out a template you like…and follow the ad examples to craft yours.
And the best part?
It's a simple blueprint you can complete today and start writing winning ads as soon as tomorrow.
Alright, come have a look of what's inside…
The Hook & Look
At times, all you need is simple copy that arrests attention and sells the sizzle. This template will generate some of the easiest ads you'll ever write. And it's perfect for retargeting ads.
The Six Shooter
Writing longer copy, you might wonder: "sure they'll read all this copy?"
The six-shooter ensures your audience reads your copy.
It draws on a proven formula for simplifying longer ad copy. And it works great for biz opp niches.
The Tall Tale
Stories sell. But you have to tell it well.
Luckily, you don't have to be a master storyteller to do so.
The tall tale captures amazing story ads, you only need look at their framework to easily craft yours from them.
The Classroom Zoom
It's true! Educating your reader makes your copy sound less salesy.
Plus, it's a smart way to build trust and nurture your audience.
But then, you risk sounding boring. And boring kills conversions.
Classroom Zoom reveals how to share information in an entertaining way, so you sell as you teach.
The Unique Critique
Your market has its big problem. And speaking of this problem is a surefire way to get them listening.
The best ads have a unique way of introducing problems, and it packs a lot of
.punch when you follow the proven structure in this template.
Lost In The Amazon
How do you stop your ad copy from screaming "I'm an ad"?
This simple 2-step template shows you how. And it's perfect for video ads.
You can pull it off, as long as you've got people who've bought from you.
The Hybrid
A mix-and-match but easy-to-follow framework of the six templates mentioned above. So you can easily combine and craft a wider range of ads.
And that's not all.
I've also included the top 24 of the 100 best-performing ads for you. This way you can see the templates live in action.
But then, an interesting thought struck me. And because of that thought…
Banproof Ad Blueprint isn't the only thing you're getting.
You see, I wanted to make sure there was absolutely no confusion on how to use these templates.
So I called my buddy Landon…
Landon has been running Facebook ads for nearly as long as I have, and he's an absolute rock star when it comes to copyrighting and ad structure.
He was part of the team that embarked on that crazy adventure.
And if you were to hire him, you'd have to pony up hundreds of dollars an hour.
Anyway, I called him up and we did something special for you.