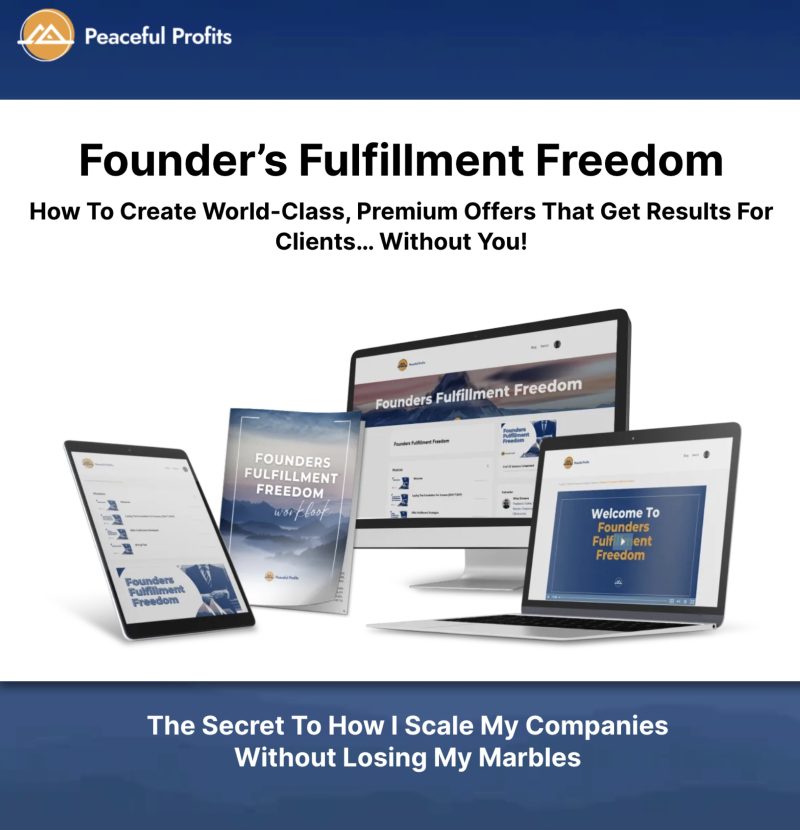 WHAT YOU GET:
4 Instructional Modules
23 Lessons
Easy To Follow Workbook
Bonus #1: The Instant Profit Multiplier Presentation
This is a talk I gave about a year ago where I showed people how to double the profits of any offer regardless of niche, offer type, or where you are in business right now.
This method does NOT require additional selling.
This method does NOT require new clients or customers.
This method does NOT require building long and complex marketing campaigns.
Instead, it taps into one of my favorite strategies of all time for getting paid twice for work done once.
It's only an hour long but might just be the most profitable hour of your entire year.
Bonus #2: The Path To $1,000,000 A Year
In this short presentation I lay out exactly what you need to make $1,000,000 or more in your business.
I provide:
The exact offers you need to run
The pricing of those offers
How many of those offers to sell
The KPIs you'll need to hit from cost per traffic to conversion rates to backend retention and more!
Pitfalls to watch out for
The stages you'll go through and checkpoints to watch out for as you progress through your journey
How to troubleshoot any problems you may face along the way
A 90 day plan for going from zero to $100,000/month run rate (this is exactly what I did for Peaceful Profits and ALL of my private consulting for equity clients)
If $100k/month is your goal, it doesn't get any more clear than this on knowing exactly what needs to get, in what order, how long it will take, and knowing exactly what KPIs to aim for along the way.
Bonus #3: Client Success Killers Mini-Seminar
My COO, Kailey Green, has been with me through more than 1,000 clients providing Done-For-You, Coaching, and other services and programs. For all that time she has been the one in charge of client success.
I asked her to create training for our internal team to impart some of her wisdom, tactics, and strategies in getting results for clients. For the first time ever, those recordings will be made public and accessible to you. The only way to get access to that training is as a bonus here in this offer.
In this mini-seminar training you'll learn:
The 7 most common mistakes service providers and coaches make when delivering their offers that ruins client success…
The difference in DFY, DWY, and DIY when it comes to knowing what your clients need to be successful…
The #1 thing holding most clients back from attaining success
The WRONG way to set expectations… and how it could cost you literal millions in lost sales, refunds, and expensive distractions…
Why running your business like other "marketing gurus" will ruin your business and why the art of overdelivery is so crucial… (she'll get real about what "overdeliver really means too and it's NOT bending over backwards to do whatever the client wants)
How to know when it's time to fire a client… and what to do when it was your fault…
Our 3 favorite ways to deal with upset clients and get them back on track towards success…
The #1 problem with 90% of coaching programs and why they almost always fail to deliver results…
And more…
If you wanna make sure that the people who buy from you get results, you'll want to tap into Kailey's brain. This alone is worth the price of admission.