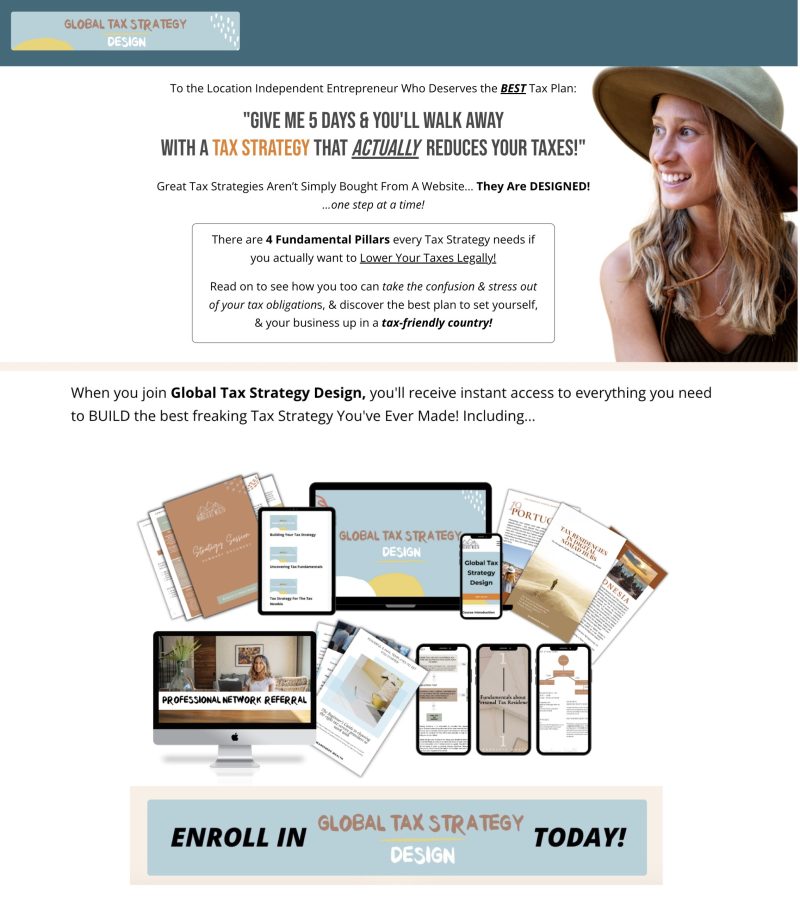 WHAT YOU GET
Module 1:
Building Your Tax Strategy
The 4 Fundamental Pillars of a Smart Tax Strategy
Every great recipe is made up of a list of ingredients… take a cake for example! Forget even one ingredient (like the sugar) and the cake is ruined! That's how the tax strategy for you and your business works!
Inside Global Tax Strategy Design, you won't just get a list of the 4 ingredients required to cook up an optimized tax strategy. You'll get step-by-step training walking you through exactly how to NAIL each pillar without having to take 10 tax courses!
Imagine how much easier and fun it will be to build your tax strategy when you can simply follow the step-by-step guides and proven examples for each section!
Module 2:
Uncovering Tax Fundamentals
How the Pro's Save Taxes!
Get inside my brain! When you've been building hundreds of tax strategies and corporate structures for entrepreneurs in numerous industries, how much will it help to get inside my brain and see exactly how I approach a set up and why it's so different than most?! In this section…
I'll Reveal the Invisible Elements Beneath the Surface That Creates Powerful Tax Strategies!
Module 3:
Tax Strategy For The Tax Newbie
"It's not just enough to design a Thousand Dollar Tax-Saving Strategy… it's gotta tick all the requirements too, right?!"
Today, tax havens and offshore companies on a Caribbean island will quickly raise flags with not only tax offices but also with your clients.
Think about it! What's your first impression about a business that is incorporated in the Cayman Islands or the British Virgin Islands?
So, 80s? Outdated? Amateur? Fake?
Is that how you want people to think about you and your business? Of course not!
So how do you create reputable, professional-looking, effective tax strategies without breaking the bank with an overpriced offshore provider?!
Module 4:
How To Execute & Operate Your Tax Strategy
The last thing you need is the "World's Greatest Tax Strategy" sitting on your desktop collecting dust. Until it gets executed and operational, it won't ever do anything to help you minimize your taxes!
That's Why I've Included an Entire Step-by-step Tax Strategy PROCESS for Executing and Operating Your Strategy Without a Fancy Compliance Team or Accounting Skills!
If you can follow directions, you can execute your tax strategy and run it efficiently while saving thousands in taxes!