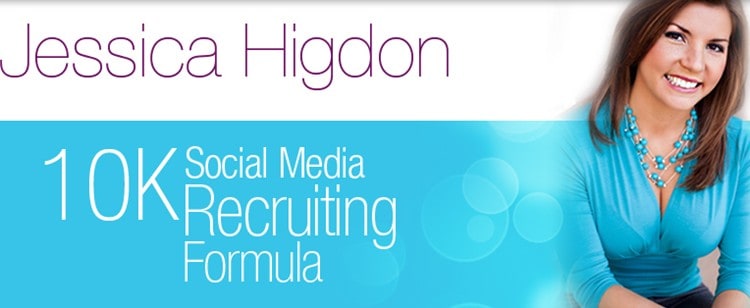 "Fun… Flexible… Stress-Free…"
Let My Simple & Proven 10K Social Media
Recruiting Formula Help You Build Your
Business In
Just Minutes A Day

…

Designed for networkers who…
Hate cold calling
Don't want to be "pushy" or seen as a salesperson
Need to prospect fast around a busy schedule
Are sometimes shy and introverted.
Don't have a big warm list
Don't have computer skills
Want to leap from part-time to full-time!
Jessica Higdon here…
And if you already spend time on social media…
Breathe a huge sigh of relief!
You really are so incredibly close to consistently recruiting new reps into your business.
I know because it happened to me.
I began my own networking career as a broke 21-year old with a teeny-weeny warm list.
Offline… I kept hitting frustrating dead-ends. But…
Online… I found my groove!
…and a never-ending supply of new prospects.
Twitter alone has over 500 million members… Facebook over a billion!
That can seem like a massive "cold list" of people you don't know.
But let me explain why it's actually your "warm list" waiting to happen!
You see… I found a few simple daily actions allowed me to "warm up" and then easily recruit total strangers through Facebook and other social media channels…
…all absolutely for free.
And this is important…
My social media accounts never get shut down… I never receive complaints from strangers — because this proven recruiting formula is based on respect for others and for social media guidelines.
Social Media gives you the freedom to recruit new reps by being a "problem solver" …not a sales person.
This was a truly life-changing realization for me!
After I cracked the code to social media recruiting… my personal networking income soared to $10K/month and I became my company's #1 female income earner.
I'm not sharing any of this to brag… just to drive home the profound difference this unique recruiting formula can make to your life.
And there's absolutely nothing complicated about it.
Simply hop on your iPad, computer or smartphone… and let my proven system turn your spare minutes into passive income…
You're not the first networker I've shared my secrets with…
Dave Prosser from Seattle was a self-confessed "terrible" recruiter. He struggled to speak with people and was spamming online groups. But since my training he's gone on to sponsor 24 people in 3 days!
Juli Lofendo—a busy single mom caring for her autistic son—was frustrated with network marketing. She'd almost lost hope entirely. But after following my formula she recruited 7 people in one week, made $800 and earned a 7 day cruise for her and her son!
Terry Gremaux lives in a quiet little town in Montana with hardly any warm market. He'd never signed up a single person before. But my social media recruiting formula has widened his horizons! He's signed up 8 people in the last 45 days!
10K Social Media Recruiting Formula
Fun… Flexible…Stress-Free…
We'll meet for a serious of intimate webinars, where totally step-by-step… I'll coach you in the 4 pillars of successful social media recruiting.
Module 1
Profile positioning and branding secrets.
Connect with someone new on social media and they rush to check out your profile.
But here's the big question…
Is yours set up properly to ATTRACT your perfect prospect or unknowingly REPEL them?
In this first module, I'll show you how to set up your profile right. So prospects are intrigued and excited to get to know you.
Taking these simple steps will make it impossible for you to lose any more easy money!
(Exciting News! As a special bonus, all of the modules have already been recorded and are available to you immediately after you enroll! I'm serious about getting you results fast!)
Module 2
Locating and attracting your IDEAL prospects
When you're looking through profiles on social media sites, do you know how to quickly find your ideal client or prospect? If not, I'm going to show you how to find those "perfect fit" people online fast!
It's time to STOP wasting precious hours talking to negative people with NO interest in you or your business. I'll show you how easy it is to start laser targeting the RIGHT open-minded people!
This step alone will save you untold time and hassle. And when a "perfect fit" new recruit needs to build their business around a busy schedule… no problem!
Just share my time-friendly recruiting formula… and you're on your way to passive income.
Module 3
How to turn cold leads into warm leads.
How does a cold online lead turn into a hot prospect dying to learn more about your business?
Easily, that's how!
And you're about to know all the secrets.
Have a pen and paper handy, because I'm sharing the exact questions I ask that get people to open up and start talking themselves into joining your business!
Module 4
Secrets to becoming a social media "closer."
You can talk to LOTS of people on social media… but if you don't know how to close them into your business, it's just one huge waste of time.
But I say… let's not waste a second!
I'll show you how to easily and efficiently bring new people into your business… and without having to deal with a thousand objections first!
Closing is the life-blood of your business and the fuel for your dreams…
That's why everyone will leave this webinar an unstoppable social media closer!