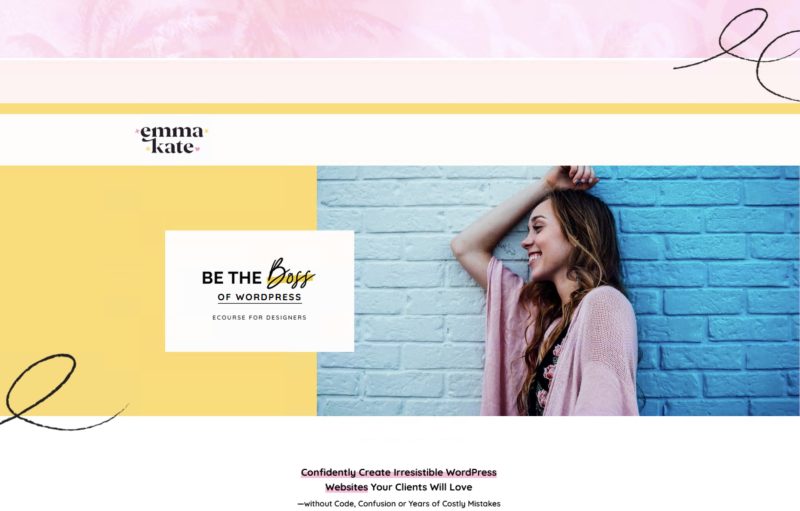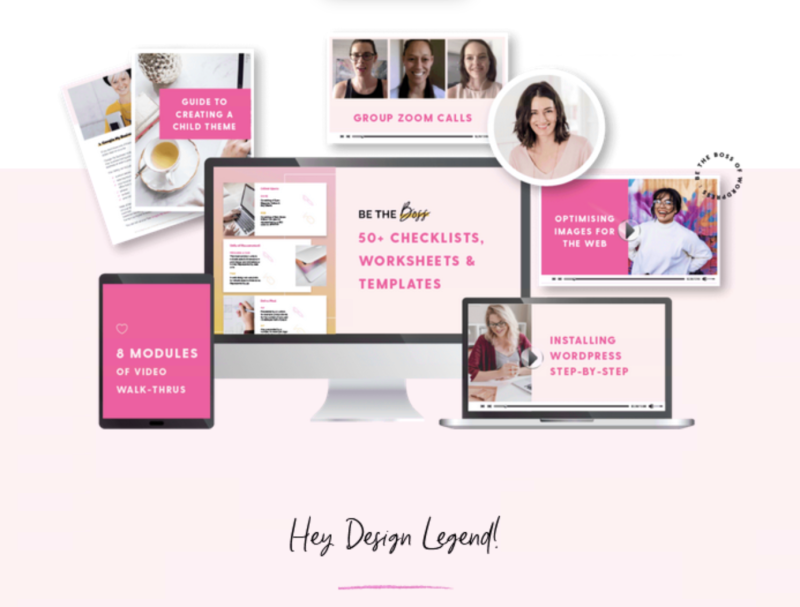 Module 1
The Goods
Gather the goods needed to create a website that is pretty… and pretty darn successful.
Create a site that's easy to navigate and know exactly what pages you need to create to launch your site by building your sitemap.
Get SEO savvy and learn one surefire way to get your site seen, found and adored by Google and other search engines.
Cement your positive web experience with tips and resources on writing personality-driven and SEO-focused copy that connects with your ideal client.
Module 2
The Style
Ensure your website is beautiful, unique and authentically on brand by defining your site's style.
Master the art of print vs. web design (CMYK vs RGB, print vs web resolution, responsive web design and all that scary-sounding stuff). Don't worry, it'll be a cinch. Pinky swear.
Become a colour whiz generating web-safe colour palettes that look beautiful on screen.
Build your little black book of premium and free website images to ensure your designs are always engaging, memorable and oh so stunning.
BONUS: Learn how to optimise your images for the web so your website is speedy AF and both Google and your website visitors love you.
Module 3
The Foundations
The zero-stress way to give your beautiful design some techy brains by (easily!) building a solid software foundation for your site.
Learn about domains, hosting & WordPress and how they all work together to create dreamy sites.
WordPress.com or WordPress.org? WT? Learn the difference between these two bad boys and avoid making this mistake many graphic designers do.
Set up your domain, hosting and install WordPress. Woot woot! It'll be easy as pie.
Module 4
The Tools
Upgrade your web dev knowledge and skills by setting up the basics of your WordPress site.
Get acquainted with WordPress and learn the basics of your WordPress Dashboard.
Learn about and install your first plugin (yay!)
Ensure all your hard work is safe by setting up reliable daily backups for your site.
BONUS: Create a Coming Soon page and have your fans eagerly anticipating the launch of your fancy pants new website.
Module 5
The Secret Weapon
Unleash the power of the web dev secret weapon every designer should have in their toolkit.
Become WordPress literate with lessons on themes, page builders, and child themes.
Get the party started by installing your chosen theme and child theme.
Get familiar with your chosen page builder and start creating your first page. (You'll feel like a total web geek by this stage!)
Module 6
The Build
Turn your vision into the beginnings of a website you'll love by building your homepage.
Make your website easy to navigate by setting up your website's main menu.
Customise your site and make it your own by configuring your theme options and theme customiser settings.
Select your favourite page layout or design your layout from scratch using my no-fuss way to create conversion-optimised wireframes.
Build your homepage. Whoop whoop!
Module 7
The Fitout
Crack your creative knuckles and have fun fitting out your website with your juicy copywriting, images and interactive content.
Create a library of sections and website elements you can reuse throughout your site, saving you a bucketload of time!
Flesh out your site by creating and adding content to all your internal pages.
Set the foundations for sales success by creating website enquiry & opt-in forms.
Module 8
The TUNE-UP
Phew – the hard work is done! Now it's time to tidy up your website and ensure it's speedy, secure and backed up.
Work through my pre-flight checklist to ensure you've got everything ready to roll before you launch.
Step into your web dev pro shoes by learning about web maintenance best practices including security, backups and software updates.